Published July 03, 1996
•
Updated June 12, 2023
Simeon Durá 1871-1940
Simeon Durá of Valencia was one of Spain's most distinguished playing card manufacturers, flourishing between 1871-c.1940.
Simeon Durá of Valencia was one of Spain's most distinguished playing card manufacturers, flourishing between 1871-c.1940. In the same league as Naipes Comas (Barcelona) and Heraclio Fournier (Vitoria), it is believed that Simeon Durá learnt his trade whilst serving as an apprentice with Manáut Hermanos, another playing-card manufacturer located in Valencia. When Manáut Hermanos ceased trading in 1871, Simeon Durá opened his first playing card factory just around the corner, in calle San Vicente 116. Soon afterwards his address changed to Guillem de Castro 130, Valencia. By around 1890 Durá had completed an extensive new factory in Arrancapinos No.29 (renamed Angel Guimerá in c.1930).
Durá's early production followed the same designs which had been used by his predecessors Manáut Hermanos but soon afterwards he commissioned artist E. Pastor to create a range of new, distinctive designs. At the same time Durá acquired modern lithographic printing equipment enabling him to compete effectively with other leading players in the market, and to produce his impressive range of highly artistic designs in high quality.


Simeon Durá is known to have exported playing cards to Latin American countries including Argentina, Chile, Cuba, Ecuador, Peru, Puerto Rico and Uruguay, as well as The Philippines. The range of playing cards included fantasy designs as well as standard Spanish National, Catalan and Cadiz-style cards for these markets, including specially printed editions for The Estanco de Naipes del Perú, M. Dominguez y Cía of Valparaiso (Chile) and other overseas customers. Durá also produced Anglo-American style 'poker' playing cards with a very elaborate ace of spades and the brand name 'Fortuna', in various qualities, as well as children's packs, advertising packs, Bézique sets, French Baccarat packs and a special 74-card set of 'roulette' cards.
The imposition in 1904 of tax on playing cards by the Spanish government was a severe setback for playing-card manufacturers, and prices almost doubled as a result. This situation encouraged Simeon Durá to diversify and to undertake various other general printing jobs including posters, picture cards, relief prints and boxes. The bullfighting pack (shown below) was produced during this era.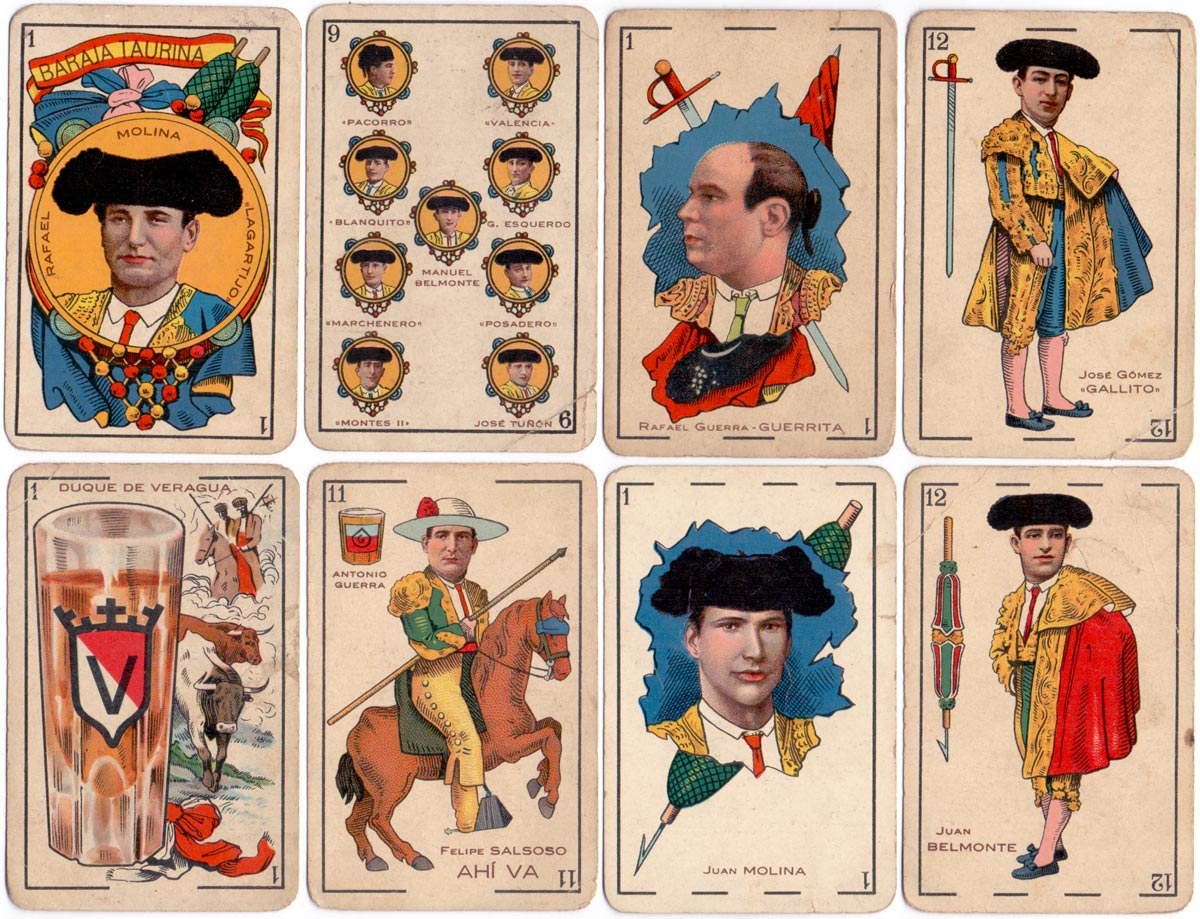 Above: Simeon Durá's 'Baraja Taurina' was in print from 1916 until the 1930s. It was printed with either square or rounded corners and with various backs, including advertisements for Chocolates Angelical, Barcelona, featuring bullfighter photos on the reverse more →
In c.1931 the company name changed to Hijos de Simeon Durá. However, the Spanish civil war adversely affected the company's fortunes from which it never fully recovered and playing-card production was finally abandoned in the early 1950s. The company continued as a general printer until 1970.
Member since February 01, 1996
Founder and editor of the World of Playing Cards since 1996. He is a former committee member of the IPCS and was graphics editor of The Playing-Card journal for many years. He has lived at various times in Chile, England and Wales and is currently living in Extremadura, Spain. Simon's first limited edition pack of playing cards was a replica of a seventeenth century traditional English pack, which he produced from woodblocks and stencils.