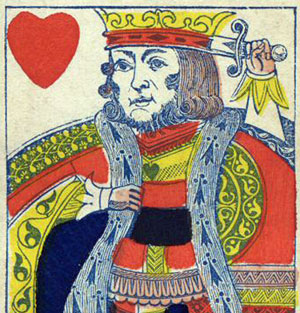 The Origin of the "Suicide King"
The "Suicide" King of Hearts derives from a medieval design showing a King wielding a battle axe
Many fanciful theories have been proposed regarding the origins of the court figures on our standard English playing cards. The fifteenth century cards of Pierre Marechal of Rouen, with their air of self-assurance, are the predecessors of our contemporary standard Anglo-American court cards which are now recognised world-wide. The early history of the development of different regional patterns is not always straightforward, so that as card makers migrated or copied each other, certain figures reoccur in patterns from other countries, even with different suit systems.
The King of Hearts, holding a sword behind his head, is sometimes nicknamed the "Suicide King". He can be seen to derive from a late medieval design showing a King wielding a battle axe. All the important features can easily be recognised: the belt, the patterned cloak held by his hand and the stance showing one leg - except in the double-ended version. Sometimes cards were turned to face the other direction, but by around 1870 English cards were fixed with the suit symbol accommodated at the left-hand side to assist in fanning, or "squeezing" the cards in hand.
By around 1800 the battle axe seems to have been replaced by a sword which disappears behind the King's head. Curiously, in the double-ended version, the King of Hearts becomes the only four-handed court card.
A similar late medieval derivation can be shown for the remaining court cards in the English pack. Many of the attributes, or symbols of office, have changed or become unrecognisable over the years, but the basic features are still there. The question of whether they were facing left, right or straight forwards seems to be simply a matter of chance.