Rameses Fortune Telling Cards, c.1910
Rameses Fortune Telling Cards were manufactured by Chas. Goodall & Son Ltd, Camden Works, London, c.1910, around the same time as Rameses The Egyptian Wonderworker, the successful magician illusionist (see image below), flourished. The cards have fortune-telling interpretations printed at the top and bottom of each card, and are presented in a mock snakeskin box which includes an instruction leaflet explaining how to shuffle and lay out the cards for readings, plus a rough outline of the meaning of each card. The back depicts a double-ended Egyptian scene.
Many fortune-telling packs share a repertoire of symbolic items such as clouds, a key, the sun, a coffin, and so on. Standard playing cards have been widely used for fortune-telling and over time the single cards in the pack have acquired certain fortune-telling meanings. In a number of cases these meanings are printed at the edges of the card, as in this example.
---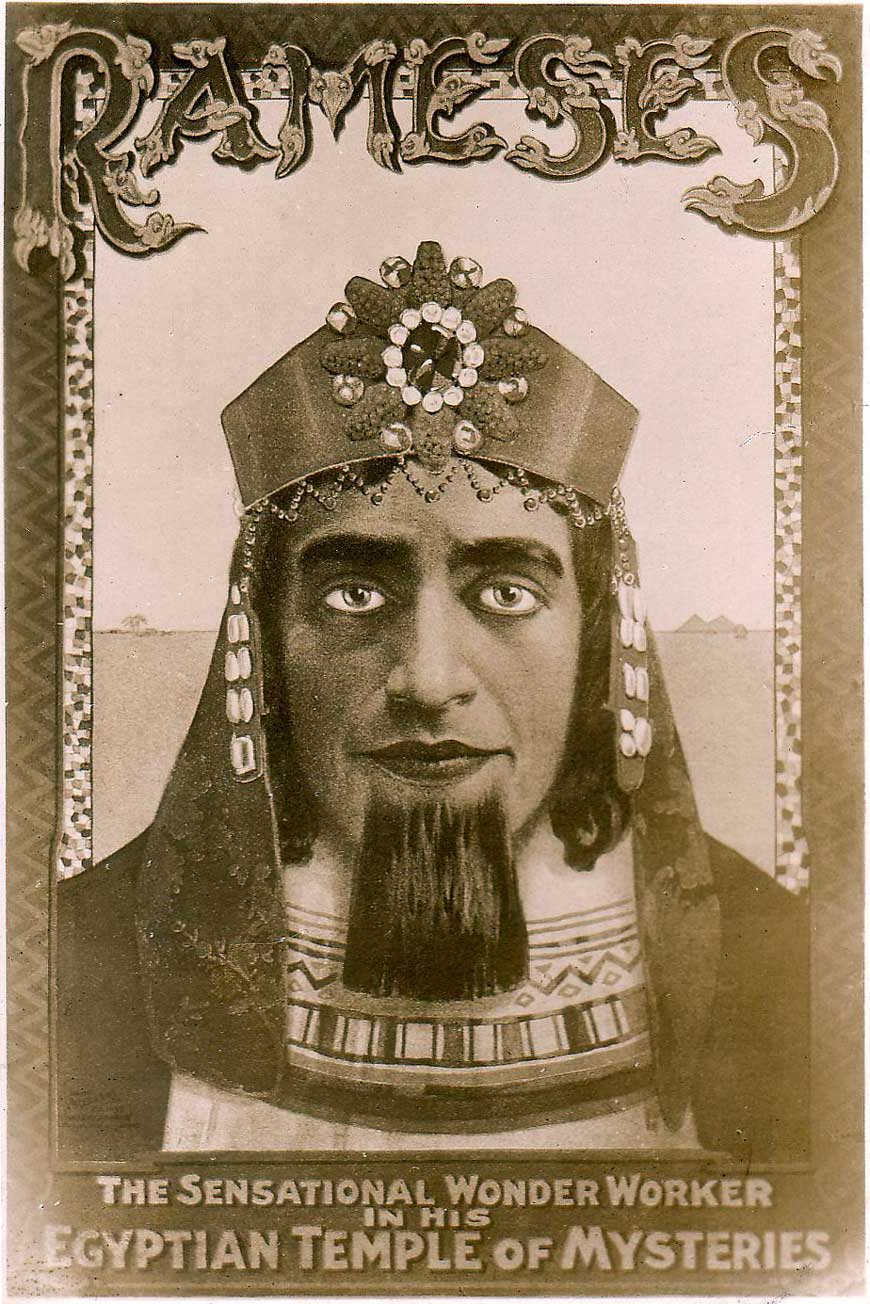 See also: Argentinean Tarocco • Book of Fate • Cartas Blancas • Cartas Gitanas • Cartomancy & Divination Cards • Edyta Gdek Tarot • 17th Century Fortune-Telling Cards • 72 Names Cards • Geistliche Karten, 1718 • German Fortune Telling cards, c.1818 • Grapho-Deck • Jason Ennis Tarot • Minchiate • Mlle Lenormand Cartomancy • Naipes Tu Destino • Picture Book of Ana Cortez • Picture Show Zodiac Fortune Telling Cards • Ramses II Tarot • Self-Nurturing Solitaire • Tarocco Bolognese • Tarocco Piemontesi • Tarot Egipcios Kier • Welsh Tarot • Tarot