Published August 02, 2013
Updated May 16, 2022
Charles Hodges
Charles Hodges produced engraved geographical and astronomical decks, London, c.1827-30.
Charles Hodges operated as a bookseller and stationer at 27 Portman Street, Portman Square, London, from 1825-6 until 1830. Following the tradition of engraved pictorial playing cards depicting educational, scientific and other subjects, which had its heyday in England during the 17th-18th centuries, Hodges published these Geographical and Astronomical packs starting in around 1827. The Geographical cards (shown above) were probably inspired by a pack made in France by René Janet in 1825 called "Boston de l'Univers ou Jeu des quatre parties du Monde". The English version is believed to have been made for Hodges by Stopforth & Son in London. The Astronomical pack (shown below) was also likely made by Stopforth & Son. These are amongst the last of the finely engraved English packs as chromolithography was soon to take over.
Astrophilogeon, c.1828
Hodges' companion pack dealing with astronomy had numeral cards carrying diagrams of constellations and their pictorial representations; the court cards represent classical deities. The aim of the game was to obtain pairs of map and constellation cards from similar parts of the terrestrial and celestial globes. Information about the locality was printed at the bottom of the cards and the latitude or declination was displayed as a corner index at the top left under a large 'N' or 'S'. The maps which were used in the Geographical cards were again re-used, without any suit signs stencilled in, to complete the Astrophilogeon decks.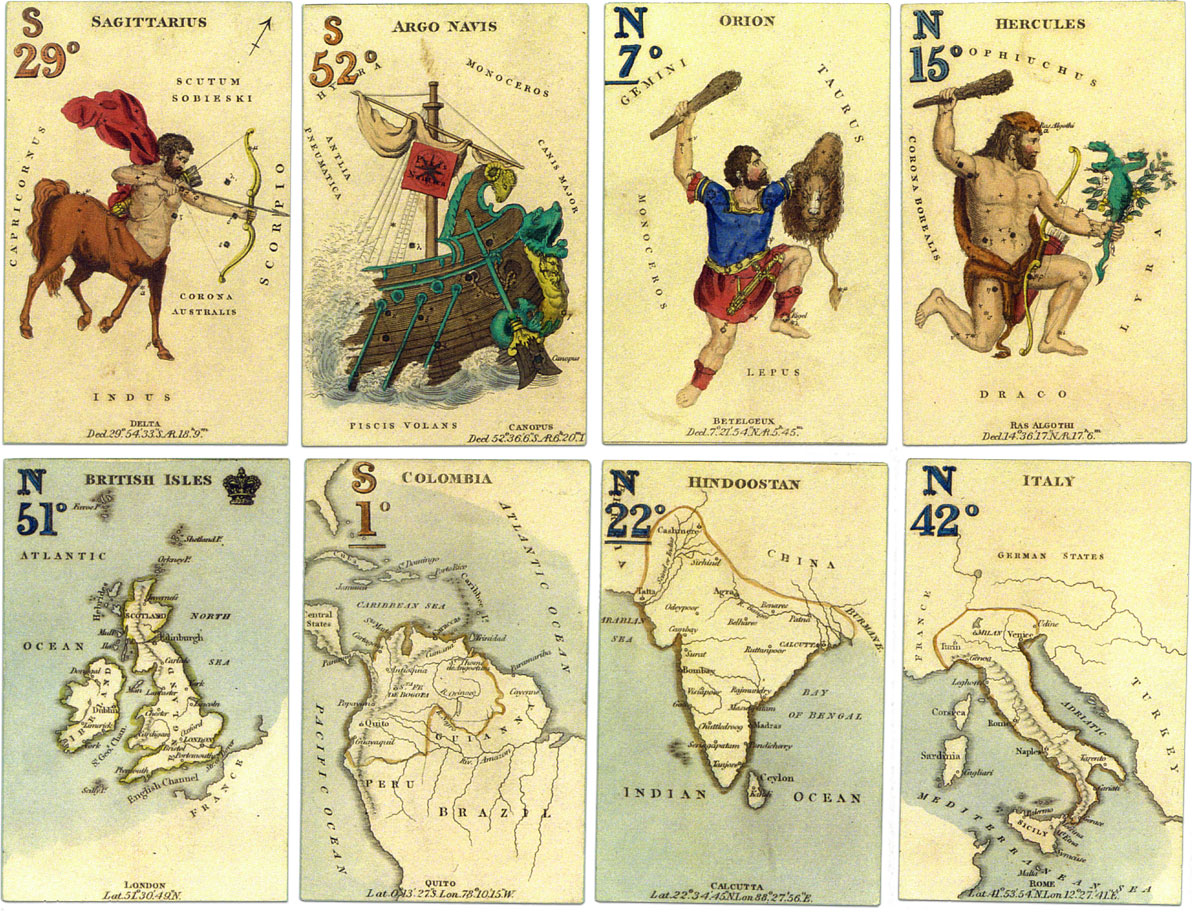 Hodges had published supplementary sets of 40 map or constellation cards with no suit signs or other information printed on them, or accompanying court cards, as New Geographical Cards and New Astronomical Cards, and was able to re-use the same plates for both his Geographical and Astrophilogeon decks with the additional information over-printed from separate plates or stencils. After Hodges ceased trading in c.1830 the packs were re-issued in 1838-9 by William and Henry Rock possibly, at first, using the same plates but subsequently moving to lithographic printing.
---
Member since February 01, 1996
View Articles
Curator and editor of the World of Playing Cards since 1996. He is a former committee member of the IPCS and was graphics editor of The Playing-Card journal for many years. He has lived at various times in Chile, England and Wales and is currently living in Extremadura, Spain. Simon's first limited edition pack of playing cards was a replica of a seventeenth century traditional English pack, which he produced from woodblocks and stencils.