Gedimino Stulpai - Columns of Gediminas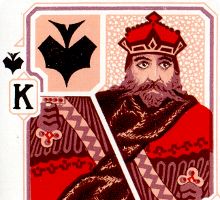 'Gedimino Stulpai' playing cards made in Lithuania by Spindulys Printing Co., Kaunas, depicting Lithuanian national symbolism, c.1930.
Gediminas is regarded as the founder of Vilnius, the modern capital of Lithuania. The Columns of Gediminas are one of the earliest Lithuanian symbols. During the period between World War I and World War II they were used by the Lithuanian Republic as a minor state symbol, e. g. on Litas coins and military equipment. The interesting designs in these playing cards include people in national costumes with an Art Deco style. The index signs are placed down the side of the card. The official playing card tax stamp can be seen printed in green ink (slightly blurred) on the Ace of Diamonds which reads: "Lietuvos Valstybes Monopolio Kortos" (Lithuania State Playing-card Monopoly).