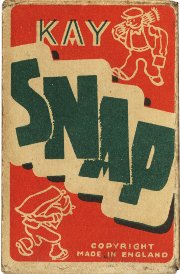 Kay Snap Card Game, 1930s
Kay 'Snap' Children's Card Game, made in England, 1930s. Nine sets of four identical cards showing common trades of the era, all male and wearing their traditional garb, including the Coalman, the Butcher, the Milkman, the Draper and the Policeman. No female workers are depicted and the tradesmen are all titled as "Mr". With the exception of Mr Black, all the tradesmen have red noses.
Following the difficult times of the Great Depression, it is curious that none of the new industries which employed women during the 1930s are depicted in this game for young children. However, the issue was still contentious, and the popular opinion may have prevailed that married women who brought a second wage into the household were denying others of their fair share.