Published July 03, 1996
Updated March 31, 2022
Peruvian Playing Cards
Playing cards have been travelling from Spain to South American colonies ever since Christopher Columbus.

Playing cards have been travelling from Spain to South American colonies ever since Christopher Columbus. In 1531 Francisco Pizarro, a Spanish soldier, set sail from Panama with 180 men and 37 horses to conquer Peru for its gold. Huge amounts of silver were extracted from Peruvian mines during the 16th and 17th centuries and shipped back to Spain. At the same time gambling increased. Indeed, archaeological excavations in the Lower Rimac Valley near Lima have unearthed dice and fragments of 16th century Spanish playing cards made in Seville. Thus Peru was supplied with playing cards manufactured in Spain since the 16th century.
Sheets of playing cards were already being produced and sold in Peru by the mid-sixteenth century, but in 1553 their production was prohibited. The first printing press in Peru appeared in 1594, primarily for the purpose of printing Christian doctrine to support evangelism. Others soon followed and output was controlled by the Spanish crown to guard against subversive doctrines. Most of the images were religious and produced in Spain following fashions and tastes of the day. Ornaments include double-tailed mermaids, fish, semi-humans, demons, dragons, etc. At some point local woodcutters or engravers were employed; by 1618 an accusation was made that Francisco del Canto had made counterfeit playing-cards. Clandestine playing card industry was established at an early date.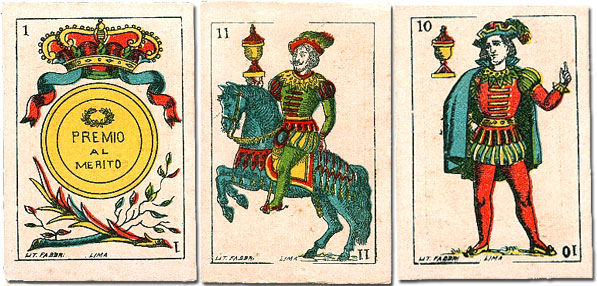 The Spanish Cadiz pattern has been used in Peru since before 1900 and has become a sort of Peruvian National Pattern. The Castilian and Catalan patterns are seldom seen. For many years foreign-made cards were imported, including those made for the Estanco de Naipes del Perú, until Peruvian printers began to produce their own.
The Estanco de Naipes del Perú was first established in 1781 and administered by Spanish authorities as a sort of monopoly. Cards were produced in Spain at the Real Fábrica de Macharaviaya. Subsequently the Estanco was devolved to the Peruvian Congress who controlled the playing cards industry until the Estanco de Naipes was finally abolished in 1967.

A number of Peruvian tobacco companies produced collectible insert cards and playing cards to promote their cigarette brands during the late 19th century and early 1900s, many of which are finely lithographed by local printers. In addition there has been a small output of locally-produced packs. Local printers who also produced playing cards include: Color & Trazos ¦ Imprenta Lecaros ¦ Jan Mer S.A.C. ¦ Litográfica del Perú ¦ Litografía Fabbri ¦ Litografía Goicochea Hnos, S.A. ¦ Naipes y Casinos ¦ OBD, S.A. ¦ Offset Cecil S.A. ¦ Pavias ¦ Power Casinos ¦ Zandrox Producciones.
Publicity & Advertising
Tourist Souvenir
Tarot & Cartomancy
---
Member since February 01, 1996
View Articles
Curator and editor of the World of Playing Cards since 1996. He is a former committee member of the IPCS and was graphics editor of The Playing-Card journal for many years. He has lived at various times in Chile, England and Wales and is currently living in Extremadura, Spain. Simon's first limited edition pack of playing cards was a replica of a seventeenth century traditional English pack, which he produced from woodblocks and stencils.